New Residence in Bamberg
State Gallery with Old German and Baroque paintings
(Rooms 28-47)
Today the former guest apartment (rooms 41-47) houses the Baroque Gallery and the former Pagerie (Pages' Rooms) (rooms 28-37) the Old German Gallery as Bavarian State Painting Collections galleries. The paintings are from the Bavarian State Painting Collections, the Wittelsbach Compensation Fund, the Bavarian National Museum, the Federal Republic of Germany, the State Library of Bamberg and the municipal art and painting collection of Bamberg.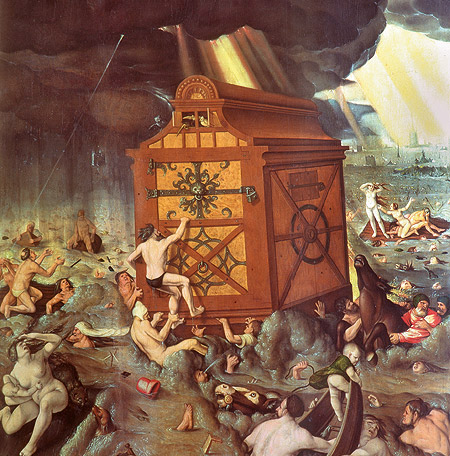 The Flood, panel painting, Hans Baldung, 1516 (section)
Photo: Bayerische Staatsgemäldesammlungen
The rooms of the Baroque Gallery occupy an entire suite of rooms on the garden side, the so-called Cavaliers' Rooms of the 18th century, which were used as a guest apartment. They were only decorated in the reign of Prince-Bishop Adam Friedrich von Seinsheim, whose Würzburg court architect, Johann Michael Fischer, was responsible for the uniform design in which late-Rococo forms blend with the Louis XVI style (Zopfstil).
The interior was completed in 1773 with stucco-work by the Würzburg stucco-worker Friedrich Manger (1735-1797) and faience stoves, four of the rooms have carved gilt mirror frames on the window piers together with console tables and sopraporta frames – work attributed to the Bamberg court sculptor Franz Martin Mutschele. Aside from the gallery pictures, the 14 sopraportas are also of interest, as they are all works by the Bamberg artist family Treu, and also represent a coherent collection of painting from Main Franconia at the end of the Rococo age.
| top |