New Residence in Bamberg
State Gallery with Baroque and Old German paintings
On the first upper floor of the New Residence are the Baroque section of the State Gallery, now housed in the former guest apartment, and the Old German section, occupying the former Pagerie (Pages' Rooms), which show works from the Bavarian State Painting Collections.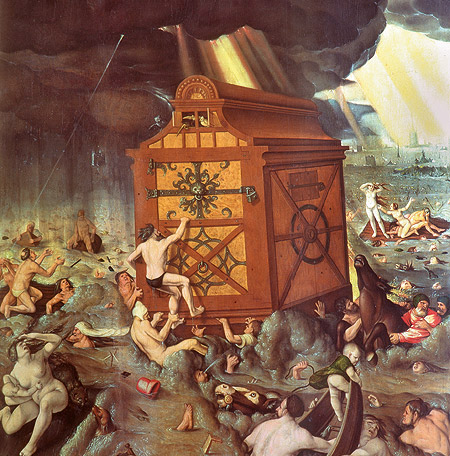 The Flood, panel painting, Hans Baldung, 1516 (section)
Photo: Bayerische Staatsgemäldesammlungen
The Baroque section shows monumental gallery paintings by Johann Michael Bretschneider (1656-1727), works by Rubens' teacher Otto van Veen (c. 1556-1629) and Rembrandt's contemporary Jan Lievens (1607-1674) as well as Dutch landscape paintings and still lifes. A separate room is devoted to the collection of the Bamberg prince-bishops: the 40 paintings hung here in several rows show what it was customary to collect and how the works were displayed in the Baroque age. The 14 sopraportas are of particular interest; the work of the Treu family of Bamberg artists, they represent a coherent collection of painting from Main-Franconia at the end of the Rococo age.
In the Old German section are masterpieces of the Late Gothic and Early Renaissance epochs from the collections of the state and the town of Bamberg, which together form an important ensemble of Bamberg, Franconian and Cologne painting. These include main works from the Boisserée collection, the famous gallery of Old German painting that focuses on works from the Old Cologne school. It was acquired by King Ludwig I of Bavaria in 1827 for the Alte Pinokothek, which was just then being built.
By contrast with the Baroque section, which as a result of the restoration completed in 2013 is a synthesis of the arts with the painting collection and masterpieces from the Bamberg furniture collection, the Old German section still awaits comprehensive restoration.